Registered Office Address:
Prospect Mortgage Services
Submit an enquiry
Please view our Privacy Policy
Find us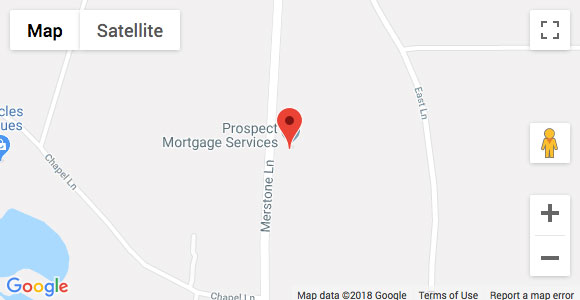 Prospect Mortgage Services Ltd is directly authorised and regulated by the Financial Conduct Authority. FRN No. 647962. Your home may be repossessed if you do not keep up repayments on a mortgage or any other debt secured on it.
Making a Complaint:
If you have a complaint or dispute with us, you are entitled to make a complaint. We have a complaints procedure that is available on request. If you wish to register a complaint, please contact us either in writing, by telephone or email. Please be assured we treat complaints seriously. For your protection if you cannot settle your complaint with us, you may be entitled to refer it to the Financial Ombudsman Service ('FOS').  Please see the following link for further details: Financial Ombudsman
Disclaimer:
We are not responsible for external websites that are linked from our web pages and which are provided for your convenience in good faith and the inclusion of any link does not imply our endorsement of the site. This site is directed at UK residents only and the information and services described on this website are not intended for use by people accessing the website outside of the UK.
Financial services complaints we cannot settle may be referred to the Financial Ombudsman Service. Please ask us about the areas of our business covered by the Financial Ombudsman Service